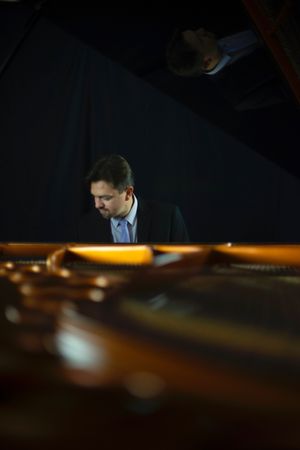 Matyas Bacso is a pianist, composer, singer-songwriter and piano tutor of Hungarian origin, based in Colchester, United Kingdom. He started to play the xylophone at the age of 6. A year later he moved on to the piano. Over the next 12 years he learnt to play classical music on the piano in state music and art schools in Nagymegyer, Dunaszerdahely and Komárom. He studied with Karoly Gagyor in Komárom, where he regularly represented his music school at various concerts in Slovakia and Hungary and on Slovak Television in 1997. 
Matyas composed his first pieces around the age of 10. He started singing in 1994, after hearing Péter Máté (1947-1984), a legendary Hungarian pianist singer-songwriter. Máté's influence became predominant in his singing. 
After finishing his musical studies in 2000, Matyas started to perform as a pianist and singer. Between 2002 and 2007 he worked as a freelance performer touring around Hungary and Slovakia playing originals and famous pop-rock tunes at festivals and concerts. In 2004 he won a performing competition 'The Lyre of Guta' in Slovakia with his original song called 'Emlékezz' (Remember). After this he joined the Alma Art Band. They performed live concerts throughout Hungary and Slovakia to pay tribute to musical legends, such as The Beatles and Péter Máté. 
In 2006 his original song 'Szülőföldem' (My Homeland) became popular in South Slovakia after it was released on CD. In 2007 Matyas took part in a grand Péter Máté tribute concert, where he worked with well-known Hungarian musicians. At the end of the same year he left his homeland and moved to the United Kingdom, with the aim of learning English and studying music at university level. 
In 2009 he started his studies at the Centre for Music and Performing Arts at Colchester Institute (University of Essex), where he studied classical piano with Lesley Young (international award-winning concert pianist), jazz piano with Andrew Noble, pop and jazz singing with Emy Urquhart and jazz harmony with Malcolm Miles. In 2011 he won the Canon Jack Award for solo piano, performing 'Rhapsody in Blue' by George Gershwin. The following year his composition 'Bill's Tune' won second place in the Roy Teed Cup of Composition. Also in 2012 Matyas graduated from Essex University - Colchester Institute, gaining a first class degree. He was also awarded with the Ede & Ravenscroft Prize for outstanding achievement in his studies. 
Since 2013 Matyas has worked with lyricist, Peter Scott-Presland. Their first songs were released on the EP 'The Mornings' by 'Matyas & The Hybrid Mind' in January 2015. 
In 2011 he started to work as a private piano tutor and since then he has become a popular piano teacher in the Colchester area. Also, in 2011 he became the accompanist of the Ipswich Gilbert and Sullivan Society. He worked with them until December 2016. 
From 2017 until 2019 he worked as musical director for the Colchester based, very successful Theatricool Performing Arts School.
Between 2013 and 2021 he worked as session musician for The Talent Events Music Agency, performing with bands, and solo at various functions, all around the UK.
In 2018 Matyas was part of the 'Tubular Bells Live 2018 UK Tour', performing Mike Oldfield's most famous pieces and songs, where he participated as the male lead singer and one of the keyboard players. It was a privilege for him to work with Phil Toms, a musical genius, who managed to transcribe one of the most iconic compositions of the 20th century, 'Tubular Bells'. The piece was performed live in its original form, which up until then, had been considered impossible... 
In September 2018 Matyas completed a very successful concert tour in Europe. Starting in Saint Victor, France, with a private function, he then gave 2 concerts in Slovakia (in Levice-Léva and Topolniky-Nyárasd), and 2 in Hungary (in Visegrád and Budapest).
Over the years Matyas has composed dozens of pieces for the piano. His first contemporary classical solo piano album 'Patterns' was released with an album launch concert at the Headgate Theatre in Colchester on 4th November 2018.
In the summer 2019 he recorded his next solo piano album 'Fragments (from everyday life)', released on 5th November 2019,  featuring his compositions representing various aspects of everyday life. 
In 2020 Matyas released two singles 'Szülőföldem' [My Homeland] and 'Trianon fáj' [Trianon Hurts]. During the first lockdown he completed an exciting composition marathon. In April 2020 every single day he composed a piece for the piano. He is planning to release these pieces on an album 'April in my Mind' in 2022. At the end of the year 2020 he also released his demo EP 'Merre induljak el?' [Which Way Should I Go] recorded in 2004, which had not been officially released before.
Most recently he released a single 'Egy utolsó nóta' [One Last Song] in memory of his grandfather. From August 2021 'Tubular Bells Live' is back on tour with concerts in 2021/2022 in Birmingham, Liverpool, York, Bury St. Edmunds, Milton Keynes, Chelmsford and Colchester.
Currently he focuses on writing and performing his own compositions and of course he very much enjoys sharing his passion for music.
His albums so far: Merre induljak el? (demo) [2004], The Mornings [2015], Patterns [2018], Fragments (from everyday life) [2019]